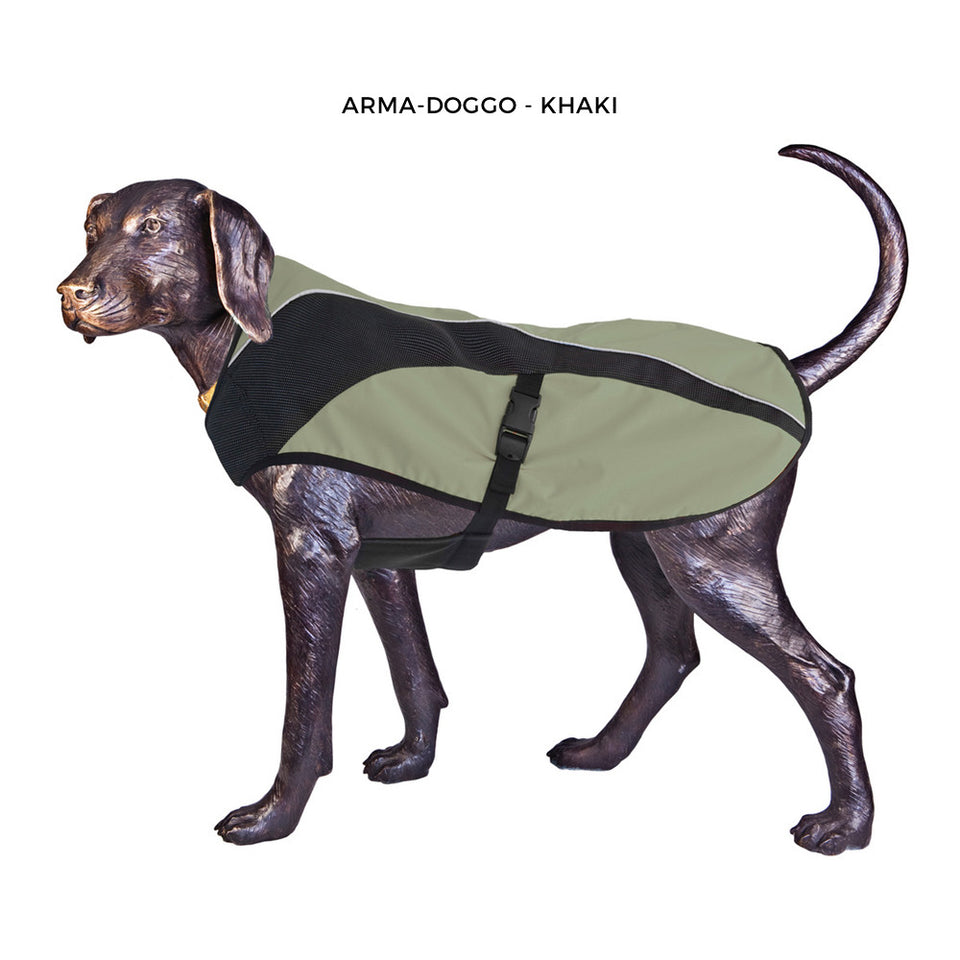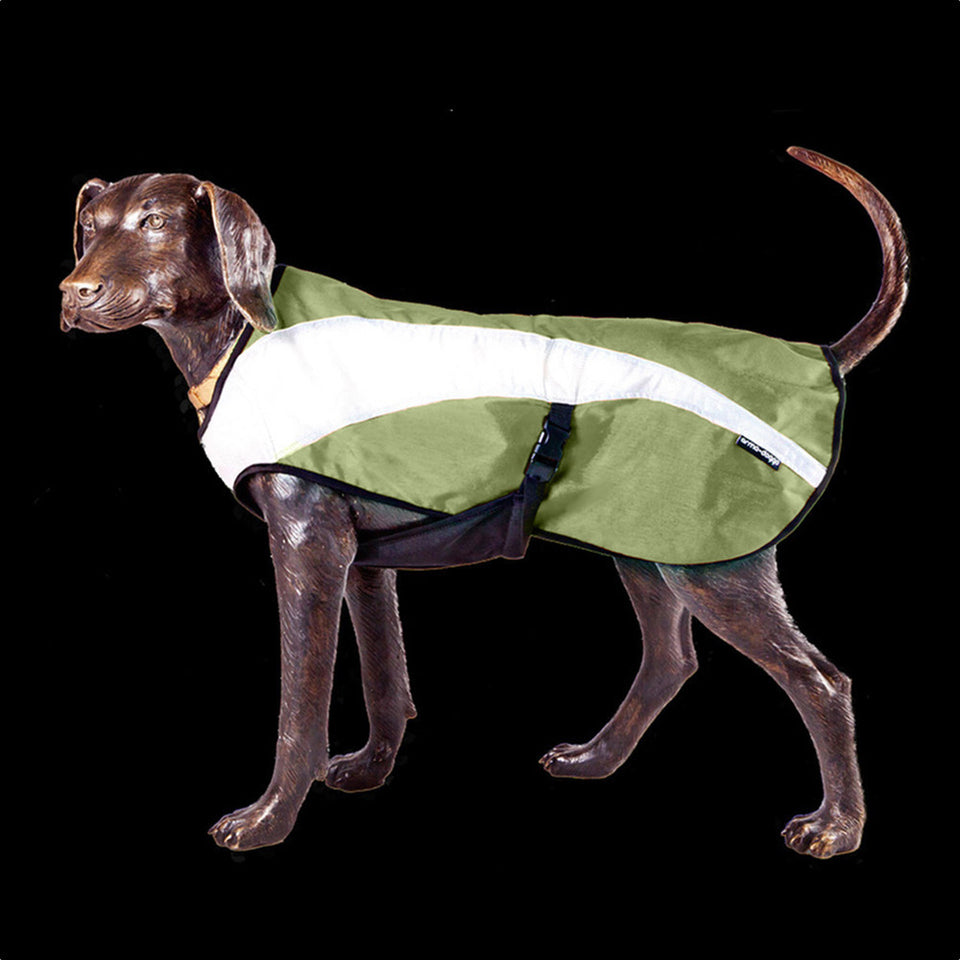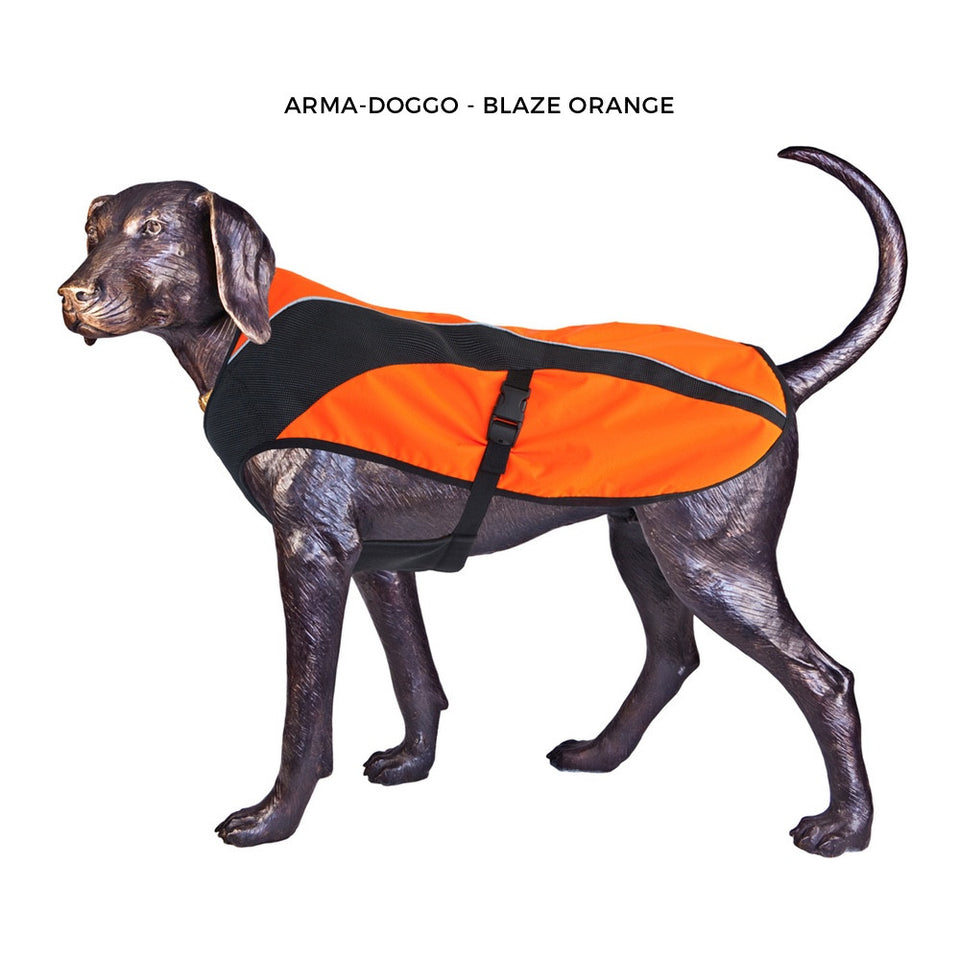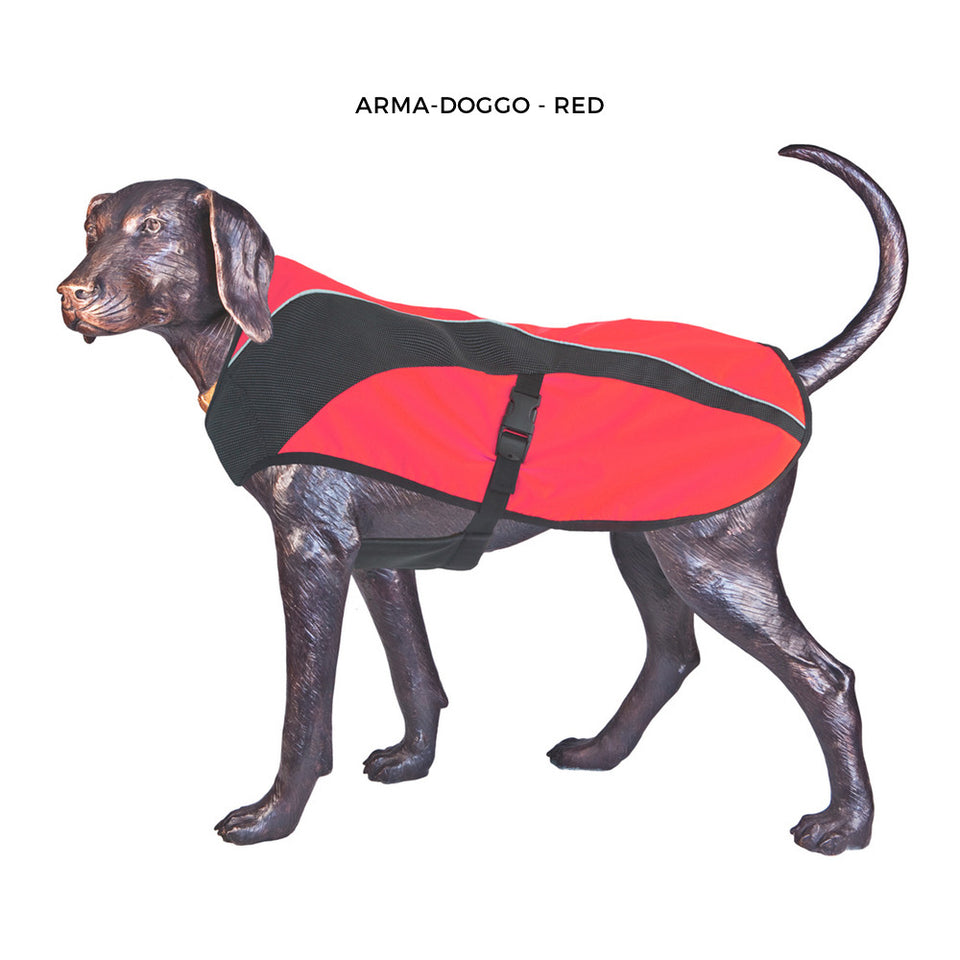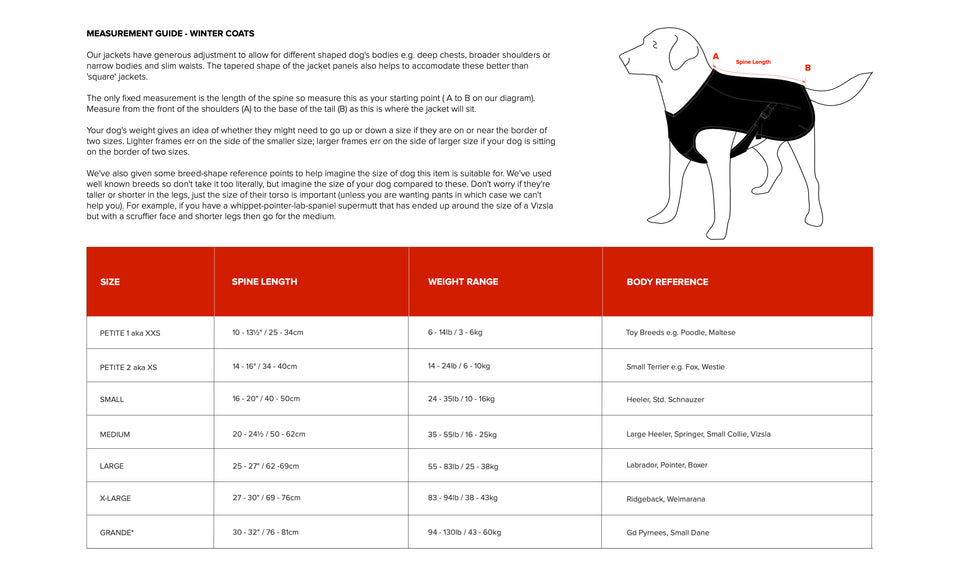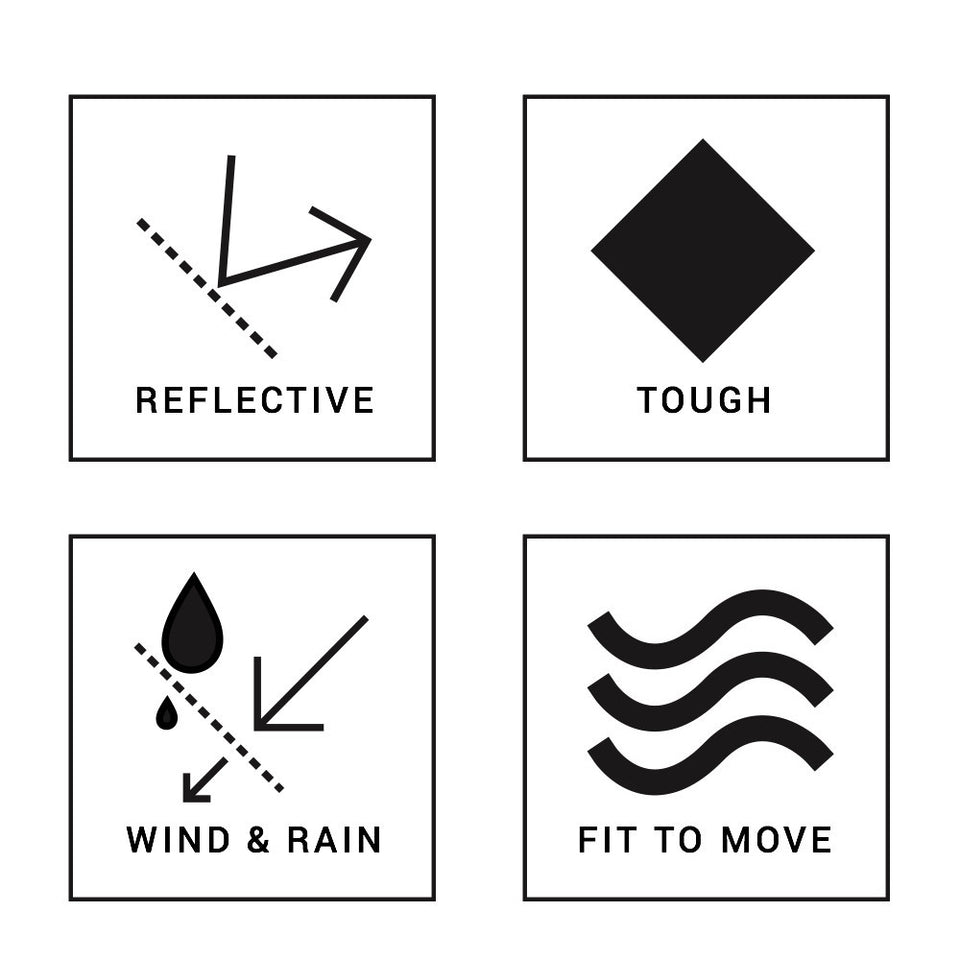 Arma-Doggo - All Purpose Jacket
AD-KH-P1
by D-fa Dogs
The Arma-Doggo incorporates a durable outer Cordura® shell, Schoeller Dynatec for its magical reflective qualities and a fleece inner layer for warmth. It's the most hard-wearing and super-reflective D-fa-design yet and is great for dogs that need durability, visibility and insulation all in one. 
Schoeller Dynatec® fabric in the front and side panels of the jacket improve visibility and durability for protection from the elements. The Dynatec appears black during daylight conditions, but reflects light to illuminate to bright silver for safer night manoeuvres.  
Arma-Doggo is great for dogs exercising in dark, cool or wet conditions who are tough on gear and need something a little tougher and more reflective.   
You'll Dig
Hard-wearing Cordura® nylon outer top and belly panels 
Internal polyester fleece layer for insulation
Schoeller Dynatec® front and side panels give superior reflectivity
Kevlar-like look, durable with high abrasion resistance
D-fa's Fit To Move pattern gives a neat fit, accomodating deep chests, narrow waists and other curious doggy shapes
Cut-away shoulder panels do not restrict movement of the forelegs
Easy on-off locking buckles; no velcro, sleeves, zippers or d-fa-difficult fastenings
Zero FAF (fur-adherence-factor) on outer surface, moderate FAF on inner fleece. 
Sizing
Our jackets have generous adjustment to accomodate different doggy shapes such as deep chests, narrow waists and broad shoulders. 
Take the spine length as your first indication of size. Measure from just in front of the point of the shoulders, to the base of their tail. Wiggling is expected but try to get a measurement while they are standing reasonably straight. 
Your dog's weight indicates how much volume they will take up in the coat. It is most relevant when they are on the border of two sizes. If they are over the heavy side of the weight range, consider sizing up. If they are lighter, opt for the smaller of the two sizes. 
We have also given breed-body type reference points to help visualise the coat on different sized dogs. We've used familiar breeds so don't take it too literally but imagine the size/shape of your dog's torso compared to these. Don't worry about short or long legs or scruffy faces or stumpy tails. It's the torso size that's most important here. So, for example if you have a Rottweiler x Whippet that ended up the size of a Vizsla but with a bigger head then go for the Medium. 
If you've measured, compared and are still unsure then please contact us and we'll do our best to help. 
A Note On The Fit
This jacket is made from a static fabric. That means that it doesn't have much, if any stretch in it so it doesn't give so much during activity as fabrics that contain lycra or stretchy knits.
To account for this, jackets made from these steady fabrics fit a little looser than those made from a stretch fabric and won't sit as tight around the body. It's like the difference between your neat-fitting soft shell jacket and your more roomy waterproof overcoat.
You don't need to adjust the size you buy, but be aware that the jacket might have a looser fit than your stretchy ones. If you're worried or confused,
contact us
 and we'll try to help you out.
Wear It
Exercising, working or playing in cool or wet and low light conditions
In tougher environments e.g. bush
If you're a bit hard on gear
Construction
Outer: Cordura® and Schoeller Dynatec
Inner: Polyester fleece
Fastenings: Duraflex Rock Lockster Buckles 
Care: Like your dog, the Arma-Doggo loves fresh air so hang it (the jacket, not your dog) outside to freshen up. Machine wash in gentle detergent and don't use fabric softener. Restore water-resistance with treatment such as Nikwax from your outdoor store.